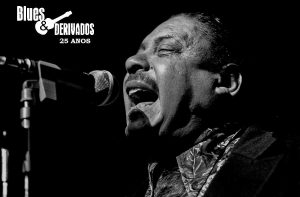 O Blues & Derivados com Clayton Sales deste sábado (28/11) destaca a voz, as canções e a importância de Big Joe Turner para o Blues e para o Rock'n Roll. Esta e muitas outras atrações você pode ouvir a partir das 17h na Educativa 104.7 FM.
Nascido Joseph Vernon Turner Jr. em 18 de maio de 1911, Big Joe Turner foi um cantor de blues de Kansas City, Missouri. De acordo com o compositor Doc Pomus o Rock'n Roll nunca teria existido sem Big Joe Turner. Seu sucesso em definitivo veio na década de 1950 com hits como "Shake, rattle and roll", "Honey hush", "Corrine, Corrina" e "Flip flop and fly".
Conhecido como Big Joe Turner por causa de sua altura e peso, Turner descobriu seu amor pela música através da igreja. O pai morreu em um acidente de trem quando Joe tinha quatro anos. O jovem Big Joe Turner começou cantando nas esquinas por dinheiro depois de abandonar a escola aos 14 anos de idade para começar a trabalhar na em bares noturnos de Kansas City, primeiro como cozinheiro, e mais tarde como garçom e cantor – ficou conhecido como "The Singing Barman" e trabalhou em lugares como o "Kingsfish Club" e "The Sunset" onde ele e seu companheiro pianista Pete Johnson se tornaram artistas residentes.
Apesar do auge na década de 1950, Big Joe Turner continuou compondo e se apresentando até a década de 1980, depois de gravar vários hits e dezenas de LPs. Big Joe Turner veio a falecer em 1985 na Califórnia, vítima de um infarto. Fica aqui uma palhinha do que esperar no Blues & Derivados deste sábado com Big Joe Turner tocando "Shake, rattle and roll" em 1954 na TV norte-americana:
Sintonize – Com apresentação de Clayton Sales, o programa "Blues e Derivados" vai ao ar aos sábados, das 17h às 20h, na FM 104,7. O programa também pode ser acompanhado ao vivo pelo Portal da Educativa (na aba "Ouça a Rádio").