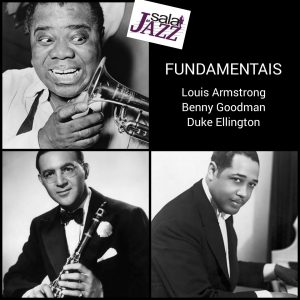 O Sala de Jazz com Clayton Sales deste sábado (14/08) traz a arte de três grandes mestres do gênero: Louis Armstrong, Benny Goodman e Duke Ellington. O programa vai ao ar a partir das 20h, logo após o Blues & Derivados na programação de sábado na Educativa 104.7 FM.
Louis Daniel Armstrong nasceu em Nova Orleans no dia 4 de agosto de 1901. Armstrong foi um cantor  norte-americano que ia do baixo ao scat. Como instrumentista tocou trompete e saxofone. Os fãs o conhecem como "Satchmo" e sua fama como cantor e trompetista o consolidou como uma das grandes lendas do Jazz. Entre seus maiores sucessos estão "What a Wonderful World", "Cheek to Cheek" e "Hotter than That" entre tantas outras.
Benjamin "Benny" David Goodman nasceu em Chicago no dia 30 de maio de 1909. Sua especialidade era o clarinete que o tornou um dos grandes nomes do Jazz rendendo a fama de "Rei do Swing". Goodman foi o primeiro musico norte-americano a criar uma banda com negros e brancos e a dar uma audição de Jazz no Carnegie Hall. Seus maiores sucessos são "Sing, Sing, Sing" e "Stompin' at the Savoy".
Duke Ellington nasceu em Washington no dia 29 de Abril de 1899. Ele foi uma das maiores influências no Jazz sendo considerado o maior compositor de Jazz americano de todos os tempos, um dos motivos para a ser chamado como o "Duque". Entre seus sucessos estão "Satin Doll", "Rockin' in Rhythm", "Mood Indigo", "Caravan", "Sophisticated Lady" e "It Don't Mean a Thing (If It Ain't Got that Swing)".
Sintonize – Com apresentação de Clayton Sales, o programa Sala de Jazz vai ao ar todo sábado, 20h, na Educativa 104.7 FM. O programa também pode ser acompanhado ao vivo pelo Portal da Educativa ou no Spotify da Rede Educativa MS. Siga o Sala de Jazz nas redes sociais: facebook / instagram
More Posts for Show:
20h às 21h - Sala de Jazz