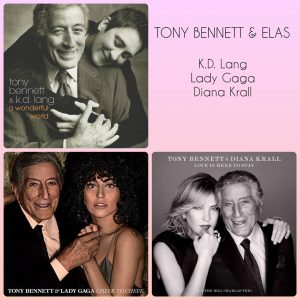 Na madrugada de sábado para domingo (18/10), a partir da meia noite, o Sala de Jazz com Clayton Sales traz os encontros de K.D. Lang, Lady Gaga e Diana Krall com o grande cantor Tony Bennett na Educativa 104.7 FM.
Nascido Anthony Dominick Benedetto em Nova York em 3 de agosto de 1926, Tony Bennet tem quase 70 anos de carreira como cantor de standards, pop, e Jazz. Ao longo da carreira Tony Bennett lançou mais de 70 discos e gravou inúmeras parcerias com grandes nomes da música mundial tendo superado em 2009 o recorde de mais de 50 milhões de álbuns vendidos ao redor do mundo.
Tony Bennett também é um talentoso pintor, assinando suas telas com o nome de Anthony Benedetto, obras que estão em exposição pública permanente em diversas instituições. O cantor também é o fundador da "Frank Sinatra School of the Arts" em Nova York.
O Sala de Jazz trará encontros de Tony Bennett com as cantoras K.D. Lang em 2002 com o disco "A wonderful world", Lady Gaga em 2015 com o álbum "Cheek to cheek" e Diana Krall em 2018 com o lançamento de "Love is here to stay". Confira uma palhinha do programa com "The Lady is a Tramp" com Tony Bennett em parceria com Lady Gaga:
Sintonize – Com apresentação de Clayton Sales, o programa Sala de Jazz vai na madrugada de sábado para domingo, a partir da meia noite na FM 104,7. O programa também pode ser acompanhado ao vivo pelo Portal da Educativa (na aba "Ouça a Rádio").