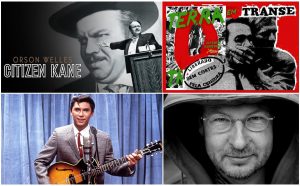 O Assunto é Cinema com Clayton Sales desta  quinta-feira (29/04) comemora a obra do diretor dinamarquês Lars Von Trier. O Assunto é Cinema começa 11h na Educativa 104.7 FM podendo ser acompanhado pela rádio ou online pelo Portal da Educativa.
O dinamarquês Lars von Trier nasceu em Copenhague, no dia 30 de abril de 1956. Lars Von Trier estreou na direção com "Befrielsesbilleder" (1982), mas o reconhecimento só veio em 1996 com o drama "Breaking the Waves". Em 1998 a comédia "Idioterne" teve sucesso de crítica e público e em 2000, "Dancer in the Dark" foi muito bem recebido pela crítica, sendo indicado a vários prêmios importantes como o Oscar e o Globo de Ouro e acabou vencedor da Palma de Ouro.
Os longas"Dogville" (2003) e "Manderlay" (2005) integram uma trilogia ainda não concluída que marcou a carreira de Lars Von Trier. Outra série que merece destaque na carreira do diretor é a "Trilogia da Depressão" com os filmes "Anticristo" (2009), "Melancolia" (2011) e "Ninfomaníaca" (2013), todos bem recebidos por crítica e público.
Entre os demais destaques do programa estão os aniversários das estreias de "Cidadão Kane" (1941), do diretor Orson Welles, "Terra em Transe" (1967), de Glauber Rocha, e da cinebiografia "La Bamba" (1987), comandada por Luis Valdez.
Sintonize – Apresentado por Clayton Sales, o programa O Assunto é Cinema traz a trilha sonora da sétima arte para as ondas do rádio, e vai ao ar às terças e quintas-feiras, a partir das 11h às 12h30, na Educativa 104.7 FM, podendo ser acompanhado também pelo Portal da Educativa (na aba "Ouça a Rádio"). Siga o programa nas redes sociais: facebook / instagram