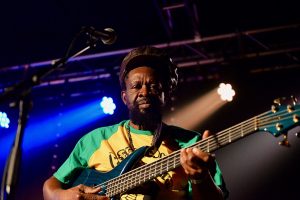 No Xaymaca Reggae deste domingo (26/05) a partir das 22h na Educativa FM 104.7, o produtor e apresentador Rasdair da Mata destaca as novas músicas de Errol Flabba Holt & Los Guardianes de Gregory além de trazer um repertório de vai do Reggae latino ao clássico.
Errol Holt, também conhecido como Errol Carter e por seu apelido Flabba, nasceu em 19 de julho de 1950 em Kingston na Jamaica. Errol é baixista e já foi membro do The Morwells e do Roots Radics além de tocar em centenas de álbuns em parcerias com outros músicos.
Los Guardianes De Gregory é uma banda de Reggae de Buenos Aires. A banda é formada por "FedaRoots" Soto Roland na guitarra rítmica e teclados, Marcelo "Gummy" Orellano na bateria, Matos Quintana no baixo e percussão e Edu Gutierrez na guitarra solo e stacatos.
Da junção de Errol Flabba Holt & Los Guardianes de Gregory o programa de hoje destaca as canções "I'am Not a King" extraída do álbum "Singing Life", "What Kind Of World" de Marcia Griffiths extraída do single "What Kind Of World" e "Can They Run" do Culture extraída do álbum "The Nighthawk Recordings".
Os ouvintes podem esperar nos demais destaques muito Reggae brasileiro, latino e instrumental com grandes clássicos e muita informação e curiosidade sobre o mundo da música.
Jah Bless a todos os ouvintes!
Sintonize – Com produção e apresentação de Rasdair da Mata, o programa Xaymaca Reggae vai ao ar aos domingos, das 22h às 00h, na Educativa 104.7 FM, podendo ser acompanhado também pelo Portal da Educativa (na aba Ouvir a Rádio). Curta a página do programa no facebook e acompanhe as novidades e curiosidades sobre o Reggae no Brasil e no mundo.