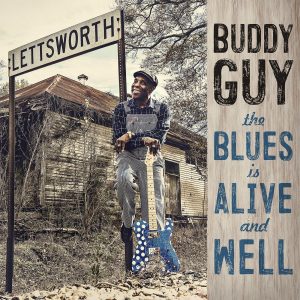 No dia 20 de junho de 1997, 21 anos atrás, Mato Grosso do Sul perdia Alex Batata, vocalista, guitarrista e fundador do O Bando do Velho Jack. O músico será homenageado no Blues & Derivados de hoje que também terá como destaque o novo álbum de Buddy Guy: "The Blues is Alive and Well".
Alexandre Sodré, mais conhecido como Batata, começou tocando nos bares e festivais de Campo Grande na década de 80. Gravou o disco "Nigéria" do grupo "Alta Tensão" tocando baixo, fazendo vocal e assinando 3 das 8 faixas do álbum lançado em 1990 (Dammed Alenated, John Neguinho e Nigéria) Alguns anos depois Alex Batata formou o grupo "Old Jack", ao lado de Fábio Brum, João Bosco e Marquinhos e que anos depois se tornaria "O Bando do Velho Jack".
Nascido George Guy, em 30 de julho de 1936 em Lettsworth, Louisiana, Buddy Guy consolidou sua carreira como guitarrista e cantor de blues. Conhecido por servir de inspiração para Jimi Hendrix e outras lendas dos anos 60, Guy é considerado um importante expoente do chamado Chicago blues, tornado famoso por lendas como Muddy Waters e Howlin' Wolf. O álbum "The Blues is Alive and Well" foi lançado em agora em junho e é o 36º da carreira do músico.
Sintonize – Com apresentação de Clayton Sales, o programa "Blues e Derivados" vai ao ar aos sábados, das 17h às 20h, na FM 104,7. O programa também pode ser acompanhado ao vivo pelo Portal da Educativa (na aba "Ouça a Rádio").