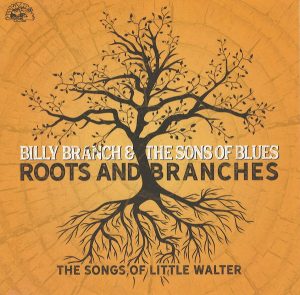 O Blues & Derivados com Clayton Sales deste sábado (10/08) destaca o novo álbum do gaitista Billy Branch em que ele faz um tributo ao mestre Little Walter. O programa ainda traz várias outras surpresas a partir das 17h na Educativa 104.7 FM.
Nascido William Earl Branch em 3 de outubro de 1951 em Illinois, nos Estados Unidos, Billy Branch é gaitista e cantor de Blues em Chicago. Branch foi nomeado ao Grammy em 3 ocasiões e chegou a ganhar o Emmy, Billy se apresentou em 1969 no primeiro Festival de Blues de Chicago, evento organizado pelo lendário Willie Dixon. Depois do festival, Branch acompanhou Dixon em sua banda, a Chicago Blues All Stars. Nos anos 1970, Branch fundou seu grupo, o "Sons of Blues".
Billy Branch participou de cerca de 250 gravações com vários artistas, entre estas, 12 trabalhos próprios. O gaitista segue se apresentando e produzindo até hoje, inclusive lançando o álbum "Roots and Branches: The Songs of Little Walter" com sua banda "Sons of Blues". O álbum com 15 faixas homenageia Little Walter e foi lançado em julho deste ano.
Sintonize – Com apresentação de Clayton Sales, o programa "Blues & Derivados" vai ao ar aos sábados, das 17h às 20h, na FM 104,7. O programa também pode ser acompanhado ao vivo pelo Portal da Educativa (na aba "Ouça a Rádio").