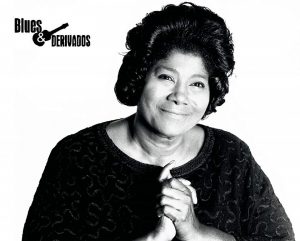 O Blues & Derivados com Clayton Sales deste sábado (26/10) relembra a voz divina da saudosa Mahalia Jackson. O programa traz essas e muitas outras atrações a partir das 17h na Educativa 104.7 FM.
Mahalia Jackson nasceu em 26 de outubro de 1911, em Nova Orleans, Louisiana. Ela começou a carreira cantando em corais gospel, estilo musical que a acompanhou por toda a carreira. Em 1937, aos 26 anos, Mahalia gravou seu primeiro disco sob o selo The Decca Coral com destaque para as canções: "God's Gonna Separate The Wheat From The Tares," "My Lord," "Keep Me Everyday," and "God Shall Wipe All Tears Away.". O disco não foi um sucesso financeiro e a gravadora não renovou.
Em 1947, Mahalia Jacckson gravou com o selo Apollo a música "Move On Up A Little Higher", um sucesso tão grande que vendeu 8 milhões de cópias, esgotando em todas as lojas. A música entrou para o Hall da Fama do Grammy em 1998. Posteriormente, Mahalia gravou sucessos como "Let the Power of the Holy Ghost Fall on Me" e "Silent Night, Holy Night".
Em 1950 ela se tornou a primeira cantora gospel a cantar no Carnegie Hall de Nova York. Em 1952, começou uma turnê pela Europa aclamada pela crítica. Também foi a primeira cantora gospel a cantar no consagrado festival The Newport Jazz Festival (em 1958 e 1959). Em 1959 fez uma breve ponta no filme "Imitation of Life" de Douglas Sirk. Em 1961, Mahalia cantou na posse do presidente norte-americano John Kennedy.
Mahalia cantou para 250 mil pessoas no histórico discurso de Martin Luther King Jr. em 1963. Também cantou anos mais tarde "Take My Hand, Precious Lord" no funeral de Martin Luther King Jr.
Seu último álbum foi "Guide Me, O Thou Great Jehovah" em 1969. Encerrou a carreira em 1971 com um show na Alemanha e com aparições final no The Flip Wilson Show nos Estados Unidos.
Sintonize – Com apresentação de Clayton Sales, o programa "Blues & Derivados" vai ao ar aos sábados, das 17h às 20h, na FM 104,7. O programa também pode ser acompanhado ao vivo pelo Portal da Educativa (na aba "Ouça a Rádio").